Army supplies fall from helicopter into Cardiff field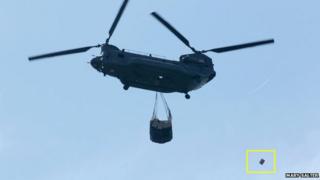 Army supplies including hot sauce, chewing gum and energy bars fell from a Chinook helicopter into a farmer's field in Cardiff.
Mary and Michael Salter were taking photos of the aircraft passing over their Thornhill home at 12:20 BST on Sunday.
A box came loose from a cargo net and crashed into the field, narrowly missing sheep.
About 1,500 troops are taking part in the NATO exercise Joint Warrior.
Mr and Mrs Salter said Chinook and Merlin helicopters have been regularly flying over their home after a temporary base was set up at RAF St Athan, Vale of Glamorgan.
The ration packs - including boiled sweets, chewing gum, cakes and dried meals such as chilli con carne - fell into the field near Llanishen Golf Club.
Mrs Salter said: "There were sheep in the field and it's just lucky it didn't hit any of them - and the motorway (the M4) is just 100 yards away".
The couple said the farmer collected the supplies, but was unsure who to call.