James Rudolf to run 159 miles home after completing London Marathon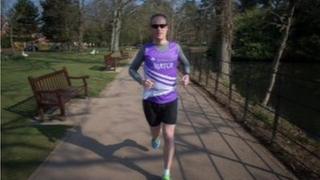 Most of the runners in Sunday's London Marathon will have trained for months before tackling the 26.2 mile course.
But a Cardiff man is using it as a "warm-up" for an even bigger challenge - running 159 miles home afterwards.
James Rudolf, 41, plans to complete the marathon then spend a further five days covering about 30 miles a day.
The father-of-four is raising money for the charity that helped after his son Oscar, five, was diagnosed with a rare form of cancer.
Mr Rudolf described it as "a ridiculous challenge" but said he will be inspired by Oscar, his "hero".
His journey home starts at the London Marathon finish line outside Buckingham Palace and will end at the University Hospital of Wales, Cardiff on 1 May - marking one year since Oscar started having treatment.
"I thought I'd use the marathon as a warm-up. I think that might have been a mistake," Mr Rudolf said.
The journey home
Monday: London (The Mall) to Maidenhead, 31.68 miles
Tuesday: Maidenhead to Wantage, 34.79 miles
Wednesday: Wantage to Malmesbury, 34.79 miles
Thursday: Malmesbury to Chepstow, 30.33 miles
Friday: Chepstow to Cardiff, 27.34 miles
Oscar was diagnosed with Ewing's Sarcoma, a rare soft tissue cancer, in 2014.
He needed chemotherapy as well as proton radiotherapy treatment in Florida.
Charity Latch paid for Mr Rudolf and sons Dylan, 12, Oliver, 10 and Will, eight, to join Oscar and mum Sarah in the USA, and offered other support.
The youngster is now returning to school part-time and will undergo further tests every three months.