Claim missing WWII Bridgend submarine HMS Urge found off Libyan coast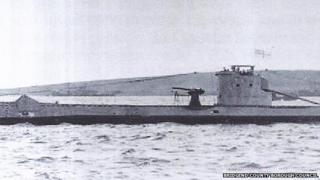 A submarine funded by the people of Bridgend during World War Two may have been found 73 years after it sunk.
HMS Urge left Malta for Alexandria on the north coast of Egypt on 27 April 1942 and was never seen again.
No definite explanation has ever been agreed upon for HMS Urge, and it was officially reported missing in the Mediterranean on 29 April 1942.
However, historian Jean-Pierre Misson claims he has identified the submarine on sonar recordings taken near Libya.
His research will shortly be available to view at the Local and Family History Centre at Ty'r Ardd, Bridgend.
In 1941 there was a national "warship week" which raised money to meet the costs of providing military machinery and vehicles for the war.
Nationally, £955m was raised, of which Bridgend contributed around £300,000 - which would be the equivalent of more than £12m today - and the town adopted the submarine HMS Urge along with two other warships.
The submarine played a key role in winning the battle for North Africa during World War Two.
The vessel aided the Malta Squadron, known as the fighting 10th, to cut off supplies to Rommel's Afrika Corps.
In 2011, to mark the 69th anniversary of the submarine's disappearance, a plaque honouring HMS Urge and its 29-strong crew and 10 passengers was rededicated to the people of Bridgend in recognition of their efforts.