Cardiff's Hang Fire Smokehouse wins best street food award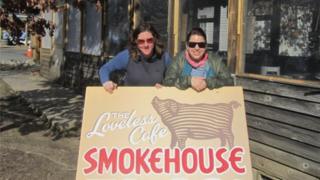 Foodies Samantha Evans and Shauna Guinn, who quit London jobs to go to America to perfect the art of barbecue cooking, have scooped a coveted award.
Their business, The Hang Fire Smokehouse (Cardiff), won the best street food or takeaway category at the BBC Food and Farming Awards.
The pair listened to a previous awards show while in the US in 2012-13 and "dared dream" they might one day win.
The award was presented at a ceremony in Bristol on Thursday.
Both originally from Cardiff, Ms Evans was working as creative director and Ms Guinn as a policy advisor when they decided they wanted to "get into food".
So they quit their jobs and embarked on a journey across the southern states of the US where producers shared their passion for BBQ food.
But they found that some were more willing than others to give up their secrets about smoking meats up to 25 hours at a time using wood and dry rubs.
"It alchemy," said Ms Evans. "Something magical happens."
On their return, they moved to Llantwit Major in the Vale of Glamorgan to be close to friends and family and set up a smokehouse to produce meat which they sell in Cardiff and at food festivals and pop-up restaurants.
Ms Evans said she hopes the win will help "elevate" the status of barbecued meat.
The BBC Radio 4 Food Programme will broadcast the first of a two-part special about the Food and Farming Awards on Sunday 3 May at 12:30 BST.