Globetrotting vintage Austin Seven in charity auction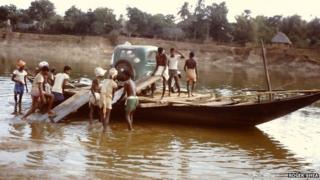 It may have a few miles on the clock, but a vintage Austin Seven that was once driven around the world is the star lot at a Pembrokeshire auction.
The 1937 Mark 2 ruby saloon - known by its current owner as Brigadier General Sir Herbert Orsten - went on a 30,000 mile global road trip in the 1970s.
The car comes with 250 photographs and a diary kept by its then-owner Roger Shea as he made the epic journey.
The sale will raise funds for St Jerome's Church in Llangwm.
Author Pam Hunt, the car's current owner, said: "It'll be a wrench to part with him.
"But as I get older and arthritis sets in, I find that I cannot look after Sir Herbert as well as I should, so reluctantly I have decided to part with him."
The round-the-world diary describes travelling through Iran and Afghanistan and crossing the front line in the Indo Pakistan war.
Of the 300,000 Austin Sevens built between 1922 and 1939, only nine have completed a trip around the globe.
The charity auction takes place at Llangwm Village Hall on Saturday evening.