Waste collection delays in Newport following plant blaze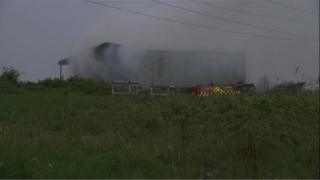 Residents in Newport have been warned to expect waste collection delays following a blaze at a recycling plant.
Firefighters remain at the council's waste recycling centre in Maesglas following a blaze involving 50 tonnes of waste overnight.
Newport council said the household waste recycling centre will remain closed until further notice.
Residents are advised to put their waste out for collection as usual.
South Wales Fire and Rescue Service was called to the premises on Docks Way at about 17:00 BST on Monday.
The cause of the fire is not yet known.