Housing development plans submitted for BBC's Llandaff site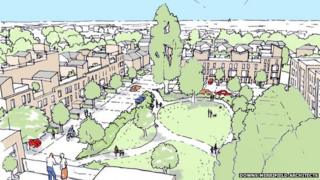 A planning application for up to 400 homes on the site of BBC Wales' Cardiff headquarters has been submitted to the city council.
Housing developer Taylor Wimpey wants to transform the Llandaff plots into housing inspired by London's Georgian squares.
The Llandaff Park plans include a range of properties from one-bedroom apartments to five-bedroom houses.
BBC staff are set to move to a new building in Central Square in 2018.
Proposals include 20% affordable homes on the sites that straddle either side of Llantrisant Road - Broadcasting House on the northern side and Ty Oldfield on the southern side.
Plans show a three-block, six-storey apartment development called The Crescent.
Three-storey terraced townhouses with private gardens and roof terraces would form The Square.
The Courtyard would be made up of four to six-storey apartment blocks.
The developer said it planned to create a number of additional pedestrian and cycle routes.
It said the development would "significantly" reduce traffic.