Newport bride stops to vote on way to church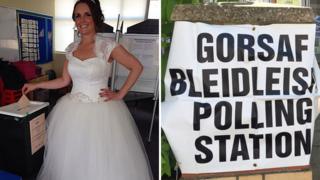 A bride-to-be stopped off on her way to the church to cast her general election vote.
Rachel Williams, 42, took time out of her big day to visit the ballot box at a Newport polling station in a white wedding gown on Thursday.
She voted separately from fiance, Mike Court, so he would not see her before they tied the knot.
The Newport couple celebrated their marriage at the St Pierre Marriott Hotel in Chepstow, Monmouthshire.
The bride said: "It drives me nuts when people say they are not going to vote.
"If you waste your vote you lose your entitlement to moan at the result."