Appeal launched after blind cat is 'thrown from car'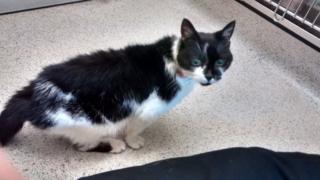 An appeal has been launched after a cat in a box is believed to have been thrown from a moving car in Caerphilly county, the RSPCA says.
A motorist reported someone in a passing, blue car throwing the box onto their bonnet at Gelligaer Common.
The black and white female cat - believed to be blind - was not injured in the incident at 22:00 BST on Sunday.
RSPCA inspector Sophie Daniels described the incident as "shocking" and asked for information.