Police seek witness after Newport underpass sexual assault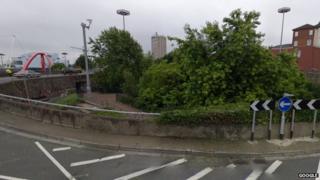 Police in Newport want to trace a man who spoke to a sex attack victim moments after she was assaulted.
The 24-year-old was attacked on Sunday by two men in an underpass at the Old Green roundabout at about 02:30 BST.
A man spoke to the victim after the assault and it is believed he offered her help.
He met the woman at the subway, walked across the bridge into Maindee where they visited a shop before parting company by the Cenotaph.
The potential witness is white, in his 20s and about 5ft 10in tall. He has wavy black hair, is of slim build and spoke with a Newport accent.
The man was wearing a dark-coloured knitted cardigan which had buckles on the shoulder with white writing. He was also wearing light grey jogging bottoms.