Cardiff Labour council group 'tearing each other apart'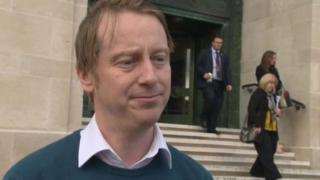 A union is calling on Cardiff council's ruling Labour group to resolve differences that saw its leader fail to be re-elected by party members on the authority.
Phil Bale tied the vote with fellow Labour councillor Lynda Thorne at the group's annual meeting on Monday.
Unison, which represents local government workers, said Labour group members "appear to be hell bent on tearing each other apart".
A fresh vote will be held next Monday.
"This dispute based purely on personalities must be resolved. The stakes are too high at the moment," said Unison regional organiser Steve Belcher.
"If the Labour Group focused the same amount of energy on fighting the Tories as they do fighting each other then some progress may be made."
'Untenable' position
One opposition councillor said the vote has made Mr Bale's position as leader "untenable".
Independent councillor Jayne Cowan said: "Even if he was to win by a solitary vote next week, he has lost the confidence of the vast majority of the council."
The vote on Monday was tied at 22 each, with one member of the 45-strong Labour group on the authority missing.
Mr Bale survived a vote of no confidence in his leadership in March after he struggled to pass his budget.