Fatal motorbike crash driver felt 'gentle jolt' on impact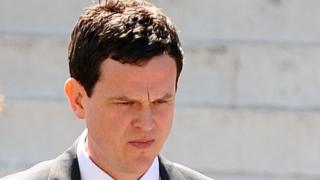 A driver accused of causing a motorcyclist's death felt only a "gentle jolt" during the fatal impact, a court has heard.
Kevin Morgan, 60, died after colliding with Vincent Hamlyn's BMW Z4 on the A449 in Newport's on 21 June, 2014.
Dr Hamlyn, 33, from Chepstow, Monmouthshire, denies causing death by dangerous driving.
On Thursday, Cardiff Crown Court heard he told police the crash had taken him "completely by surprise."
In an interview with officers, Dr Hamlyn, an anaesthetist, said he was aware of two motorbikes at traffic lights on the Coldra roundabout.
But he said Mr Morgan's bike had given "no indication" it would turn off alongside his car on to the A449 towards Monmouth.
He said of the impact: "I felt it. It was not hard. It was just a fairly gentle jolt."
He told police he drove to a layby, before calling an ambulance and rushing back to the scene to find Mr Morgan, who was "obviously dead by the time I arrived".
Dr Hamlyn said the crash took him "completely by surprise" and he tried to administer emergency first aid, along with a GP who had stopped.
Mr Morgan, from Cwmbran, Torfaen, died from "catastrophic" blunt head injuries, the court heard.
The prosecution claim both men had been "gunning" their engines at traffic lights, before speeding off in a race.
The trial continues.