250 at funeral for Laos boat death tourist Johanna Powell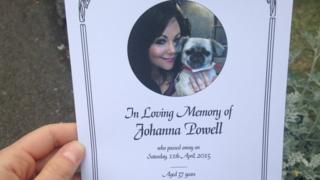 Around 250 people have attended the funeral of a woman who died while on holiday in south-east Asia.
BBC Wales picture editor Johanna Powell, 37, of Cardiff, was on holiday with three friends when the cruise boat they were travelling in overturned on the Mekong River in Laos on 11 April.
Mourners carried single yellow roses for the service at Glyntaff Crematorium, Pontypridd. on Friday.
Alicia Keys' "No-One" played as Ms Powell's coffin was carried in.
The minister leading the funeral said she was "full of life, fun, determination and full of adventure".
Nine other tourists, including six from Britain, and three crew members survived the incident.
A coroner's investigation into Miss Powell's death was opened and adjourned in Aberdare on Tuesday ahead of a pre-inquest review in August.