£6m renovation plan to transform Pontypridd YMCA into an arts centre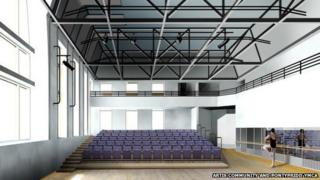 A £6m project is set to transform a YMCA building in Pontypridd into a state-of-the-art community hub and arts centre.
Jonathan Adams, who designed the Wales Millennium Centre, has redesigned the YMCA, which has hosted performances by Sir Tom Jones and Sir Geraint Evans.
The Arts Council of Wales has pledged £2.25m and the Welsh government a further £2m towards the renovation.
An appeal is being launched to raise the remaining £1.75m.
The project team, led by Artis Community and Pontypridd YMCA, will attempt to raise the money through applications to trusts and foundations.
Rhondda Cynon Taf councillor Robert Bevan said: "The council now looks forward to working with partners on this project to develop the provision of arts and cultural arts activities in the area."
It is hoped the new development of the building, which opened in September 1910, will provide arts, recreation, learning and community facilities.
Architect Mr Adams said: "My parents both come from the valleys and most of our family is here.
"Projects like this one have the potential to make a real statement about the kind of future that we want for the valleys."
Local people have been invited to tour the building on 4 June and have a closer look at the plans and designs for the building.