Sadie Jenkins had mafia delusion, attempted murder trial told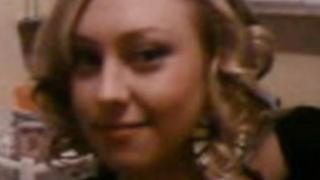 A Newport woman who allegedly tried to kill two children was suffering from delusions and believed they were in danger from the mafia, a court heard.
Jurors heard Sadie Jenkins, 28, was psychotic and out of touch with reality when she attacked the children with a six-inch (15 cm) kitchen knife on 7 May 2014.
An expert said she was suffering from delusions and defective reasoning.
She denies two counts of attempted murder at Cardiff Crown Court.
Consultant forensic psychiatrist Dr Phillip Joseph told the court defective reasoning meant that while Ms Jenkins knew what she was doing, she did not know it was wrong.
Both children were found with wounds to their throats, which required urgent surgery at the Royal Gwent Hospital in Newport.
Amphetamine
The jury was told Ms Jenkins had "smoked cannabis on a regular basis since her teenage years", but her "main drug" had been amphetamine.
Dr Joseph told the court prolonged abuse of amphetamine could lead to a psychotic state.
He read an extract of an interview he had completed with the defendant in which she said she "picked up the sharpest knife because I wanted it to be quick and easy".
"I thought, they're coming," she said.
The trial continues.