Kyle Solowyk jailed for 'horrific' attack on Sian Thomas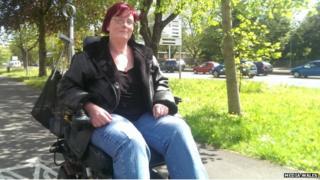 A woman with multiple sclerosis beaten by a 19-year-old drug user during a "horrific" burglary says she bears her attacker no grudges.
Kyle Solowyk talked his way into the home of Sian Thomas, 45, in Barry, Vale of Glamorgan, before punching her repeatedly and escaping with cash.
Solowyk was jailed for nine years.
In a victim statement, Ms Thomas told Cardiff Crown Court she thought she was going to die. After the case, she said she hoped he could get help in prison.
"I don't hold a grudge against him. I never have - I'm not that kind of person," she said, after the hearing.
"I feel sorry for him, really sorry - not because of his sentence but because of his drug-taking and behaviour and the fact he's not going to have a life," said Ms Thomas, who has been using a wheelchair for four years.
Solowyk, who has 33 previous convictions, pleaded guilty to robbery and causing actual bodily harm, taking between £500 and £600 from her home in November.
Ms Thomas, who has known Solowyk since he was aged seven, was in court for the sentencing.
In the statement, Ms Thomas wrote: "Not once did I say his name as I believed things could escalate even further if I did.
"However I still did not expect Solowyk to attack me as viciously as he did.
"At one point seeing the amount of blood on my body, arms and clothing I thought I was going to die.
"The pain of being smashed in the face with a fist three times will never leave me."
Jason Howells, prosecuting, told the court Solowyk claimed he wanted to use the toilet when he broke in.
In her bathroom, she found him searching through her things and she was attacked when she confronted him.
"The defendant punched Ms Thomas to the face, causing her pain and to fall on to the bed," he said.
"He lifted her off the bed and struck her full force to the nose."
Judge Philip Richards told Solowyk he had committed a "particularly horrific" crime.
Stephen Thomas, defending, added: "He's deeply remorseful and ashamed of what he has done."