Blood tests given to 651 people after Newport piercing alert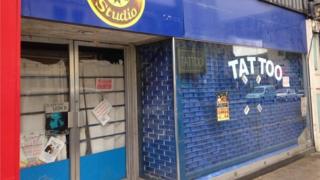 A total of 651 people who used a tattoo and piercing parlour at the centre of a health scare in Newport have attended clinics for precautionary tests.
Letters were sent to customers on 6 May after five people who had piercings were hospitalised with skin infections.
The connection was spotted by a junior doctor who treated four of them.
The studio traded as Blue Voodoo, Sun Tattoo Studio and Flesh Wound at two premises on Commercial Street between May 2013 and January 2015.
Aneurin Bevan University Health Board said blood tests for Hepatitis B, Hepatitis C and HIV are still available.
A helpline has been set up for people who had a piercing or tattoo at the business but have not received a letter.