GoSafe: Claim speed cameras sites are wrong is perverse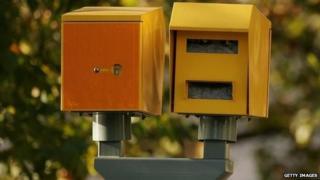 A police commissioner's claim speed cameras have not been placed where they are most needed is "perverse", according to the scheme that enforces them.
Gwent Police and Crime Commissioner Ian Johnston said speed camera vans should be "where the public say they're needed not where GoSafe say they're needed".
Chris Hume, from GoSafe, said it was "a partnership in which Gwent Police are fully involved".
He said three parties agreed all sites.
Mr Hume said each police force in Wales has a safety camera unit and sites are agreed by the force, the local authority and Swansea council, which acts as lead for the partnership.
"Camera sites are selected in accordance with the Welsh government guidelines and each site is reviewed on an annual basis by the relevant partners, including Gwent Police," he added.
"It is therefore a little perverse that there is a suggestion by Mr Johnston that the sites are inappropriate."