Apology for lost children on Beast of Bryn fun run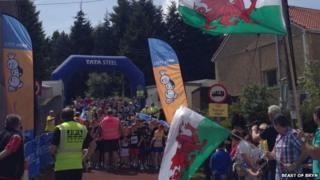 Organisers have apologised after mountain rescuers had to round up children who got lost on a fun run and ran more than double the distance.
The youngsters, aged up to 13, should have run 2km (1.24 miles) in Saturday's Beast of Bryn event near Maesteg.
But they went the wrong way as there was no marshal to tell them where to go and mountain rescuers stepped in when up to 30 failed to return.
Organiser Graham Rowland said the incident was "unfortunate".
He added: "The organisers are sorry for any distress caused to the families.
"The issue was dealt with promptly and professionally, with no-one hurt and the main race went ahead later with record numbers and very successful."
Trevor James, from Western Beacons mountain rescue team, said the group was found on the larger adult course and the older members continued the run with an adult while the rest were taken back to the start.
He added: "We're normally not involved with the children's race as it's very, very short. I know the organisers are investigating what happened.
"One of our guys was just going down the adult route and came across a bunch of children so we sent some mountain rescuers down there.
"The children were very safe, there were no injuries or obvious distress."
Aberavon MP Stephen Kinnock competed in the adult race which he said was delayed by about 40 minutes because of the incident.
He told BBC Wales: "I think it was just an error. I don't quite know what happened.
"My understanding is one of the marshals wasn't standing in the right place at the right time and sent them down the track that was for the adults."
Did your child get lost on the fun run? Email: newsonline.wales@bbc.co.uk