Families can spend night under stars on Flat Holm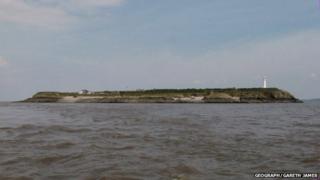 Families have a rare opportunity to spend a night under the stars on Flat Holm Island in August.
The RSPB is inviting families to camp out in the open as part of its Big Wild Sleepout fundraiser.
The event on 8 August will include a chance to discover the island's natural treasures, a shoreline safari, a hunt for bugs and a star counting exercise.
RSPB spokeswoman Carolyn Robertson said: "It's a truly magic place. It'll be a night they won't forget."
She added: "Families will have a chance to learn more about Flat Holm.
"From the sea birds that make their home there, the things that grow there and nowhere else and the island's myths and legends."
Tickets for the Cardiff council-backed event are available from the RSPB and include the return boat crossing, landing fees, camping fees and all guided activities.
Over the centuries Flat Holm Island has been a home to monks, Vikings, and Victorian and World War Two soldiers, along with cholera sufferers and smugglers.
Gulls are also regulars, with the island an important breeding ground, while hundreds of visitors take a boat trip from Cardiff Bay to explore the wildlife haven every year.