Cardiff farmers' market organisers 'upset' at Rugby World Cup closure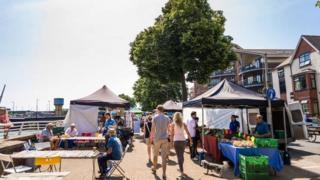 A market outside Cardiff's Millennium Stadium has been asked to close during two Rugby World Cup games, leaving organisers "naturally upset".
Riverside Farmers' Market said Cardiff council gave them two weeks notice after "logistics became evident" during the Wales v Uruguay game.
Markets planned for Sunday 11 and Sunday 18 October have been cancelled.
Cardiff council said it would not be able to guarantee public safety with the market in place.
Gareth Simpson, development manager at Riverside Community Market Association, said: "We're in the shadow of the Millennium Stadium, there's clearly going to be major events.
"But we're naturally upset. With more notice we could have planned better and maybe taken the market on tour.
"The impact has been felt by the producers. They're mostly one man or woman bands and they've lost two weeks of sales at arguably a key time of year."
A spokesman for Cardiff council said: "On October 11 and 18, around 74,000 fans will attend the Rugby World Cup matches.
"Fitzhamon Embankment will be the main route for buses into the city centre on these match days. The road will also be used as a Media Load Zone and Press Parking facility.
"Public safety is of paramount importance but we would not be able to guarantee this on that section of the highway with the market there."
The council said it had apologised to the market organisers, would refund trading permits for the dates concerned and had invited traders to hold two Saturday markets once the tournament had concluded.