Seven rabbits 'dumped' at Dyffryn Gardens on Easter Sunday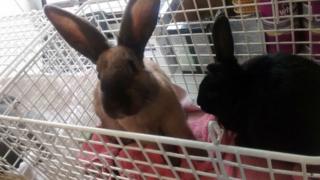 Seven rabbits are believed to have been dumped after they were found in the Vale of Glamorgan on Easter Sunday.
RSPCA Cymru said the rabbits were discovered "running loose" at Dyffryn Gardens.
Ch Insp Gemma Black said she could not believe it at first, adding: "It seemed far too topical and I wondered at first if this could be an Easter prank."
The charity said the animals were doing well and could be rehomed if their owners cannot be traced.
The rabbits have all been given chocolate-related names - Fudge, Toffee, Caramel, Button, Truffle, Coco and Sugar.