Cardiff's City Road reopens after store fire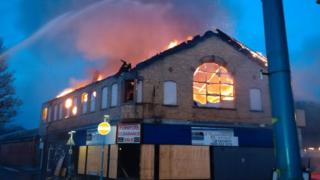 Part of a Cardiff thoroughfare has been reopened for motorists and pedestrians following a fire which ravaged a discount furniture store.
Cardiff council had previously said the building was in "a precarious state" and City Road would stay closed until a demolition team had secured the site.
About 90% of the City Road building was damaged and it also suffered a roof collapse, the fire service has said.
The cause of the fire on Thursday is not yet known.