50-year lease signed to reopen Cardiff's heliport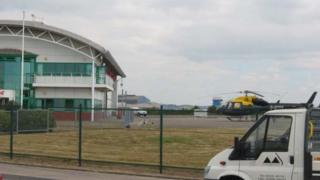 A deal has been struck for Cardiff city heliport to reopen and be operated by the owners of Caernarfon Airport.
The heliport in Cardiff Bay is owned by the city council but has been closed for about a year.
Huw Evans and Roy Steptoe have signed a 50-year lease and feel there is a market for a scheduled and charter helicopter services from Cardiff to London.
They hope to start the services within three months.
Services from Cardiff to Dublin and Caernarfon are also options.