Polygon exercise tests flood response in south Wales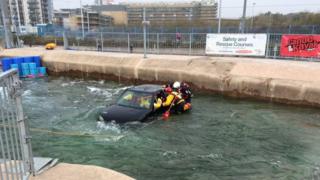 Emergency services are taking part in a major exercise to replicate serious flooding across south Wales.
Exercise Polygon has set different scenarios - including people trapped in homes in a flooded Cardiff and concerns over high water levels at the Pontsticill dam above Merthyr Tydfil.
As well as fire and rescue, police, lifeboat and ambulance crews, mountain rescue and the RSPCA are involved.
The first exercises took place on Tuesday evening.
The operation involves 15 organisations who make up the Joint Emergency Services Group (JESG).
It is taking place across Newport and Cardiff, at Cosmeston Lakes in the Vale of Glamorgan and on the River Ogmore in Bridgend to test a suitable emergency response across the area.
Other scenarios include reports of a partially submerged caravan and a person trapped under a horse in the mud with the tide rising.
The emergency teams are being tested as if the incidents were happening in extreme weather in November.
Steffan Messenger, BBC Wales environment correspondent reports from #expolygon
This is the largest multi-agency exercise of its kind in Wales this year and there are 250 people out on the ground at various locations across south east Wales.
The course of the International White Water Centre in Cardiff Bay is the focal point - with casualties trapped in a submerged car and clinging onto a fence in the fast-flowing water.
We've also seen dive teams and the coastguard scouring the bay itself and Cosmeston Lakes in the Vale of Glamorgan for casualties.
Those taking part in the exercise say it's an invaluable opportunity to bring the different organisations involved in the response to an emergency situation together to practice dealing with flooding on a large scale.
Back in the winter of 1979, 3,000 homes were affected and hundreds evacuated in the Riverside and Canton areas of Cardiff after the River Taff burst its banks.
The city spent £3m on flood defences in the aftermath, while 20 years later the barrage offered further protection.
Currently, just over 5,000 homes in the city are considered to be at risk of flooding during low-risk events.
People are asked to look out for #expolygon on social media.