Forced labour trial: Man 'bundled into car during kidnap'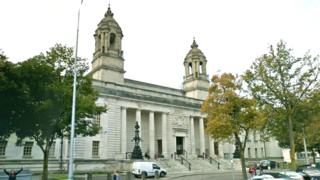 An alleged forced labour victim has told a court he was like a "rabbit in the headlights" when "kidnapped".
Patrick Joseph Connors, 59, Patrick Dean Connors, 39, William Connors, 36, and Lee Carbis, 34, deny several offences.
They are accused of forcing Michael Hughes, 46, and another man - referred to as Mr K - to work for tiny sums.
Mr K, 41, told Cardiff Crown Court he was "bundled" into a car after a period away from the men.
The court has heard the two men were allegedly forced to work for Mr Connors senior's business over a number of years and were beaten or threatened if they did not do as they were told.
They were allegedly paid £5 a day or in alcohol and tobacco, living in a shed, garage and tin hut without access to heating or water.
On Thursday, Mr K - whose real name cannot be revealed for legal reasons - said Mr Connors senior and his son-in-law Mr Carbis pulled up next to him in a Peugeot 306 after he had spent some time away from his alleged captors.
Speaking under cross-examination, he said Mr Carbis gave him "jabs to the ribs".
Mr K said he told the defendants he had "got a new life" and "didn't want no trouble", but he was "bundled" into the car, which was then driven off towards Mr Connors senior's house.
On medication
He admitted later telling police officers different accounts about who had hit him that day, saying he was on medication at the time.
However, he confirmed to the court it was Mr Carbis who had struck him.
Mr K denied making up the kidnap allegation and denied claims he had stolen from Mr Connors.
All four defendants deny one count of requiring another person to perform forced or compulsory labour between 2010 and 2013.
Patrick Joseph Connors, of Rumney, Cardiff, has also pleaded not guilty to eight counts of causing actual bodily harm, four of kidnap and one of conspiracy to kidnap.
Elder son Patrick Dean Connors, of Rumney, denies kidnapping and conspiracy to kidnap.
William Connors, also of Rumney, has pleaded not guilty to causing actual bodily harm on a man between 2009 and 2013.
Patrick Joseph Connors' son-in-law Carbis, of Trowbridge, also denies one count of kidnap between 2001 and 2002.
The trial continues.