Rededication service for Senghenydd war hero Ronald Levis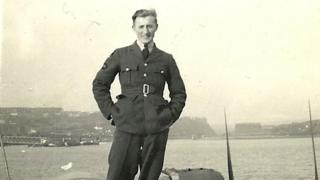 A rededication service has been held in Caerphilly county to remember a forgotten war hero.
Flt Sgt Ronald Levis was killed during World War Two in January 1942, but his name was never included on his home town's memorial in Senghenydd.
The omission was only discovered when a 95-year-old local man remembered the family living at School House.
The Ministry of Defence confirmed Flt Sgt Levis was part of a flight crew which crashed off Oban, Scotland.
With support from Caerphilly council, the Senghenydd war memorial has now been refurbished to include Flt Sgt Levis' name.
His relatives and those of his wartime sweetheart have been tracked down and will be attending the service on Sunday, which coincides with the anniversary of Victory in Europe Day.
Floral tributes will be laid by the Aber Valley Heritage Group, the community council and representatives from the RAF.
Gill Jones, the heritage group's secretary, said: "We believe it is fitting for us to act now to ensure his name is there for all to see amongst others who also gave the ultimate sacrifice for their country."
Meanwhile, a plaque has been placed on a war memorial to remember a Royal Navy cook almost 24 years to the day he died in the Falklands War.
David "Ozzie" Osborne, 22, was one of 20 crew who died aboard the destroyer HMS Sheffield, which was hit by an Argentine Exocet missile in the Falklands War.
Campaigners had called for the plaque to be at Old Colwyn, the village where he spent his boyhood, after it was discovered his name was not on a memorial at Portsmouth, to where he had moved.
The loss of the Type 42 destroyer, which sank six days after the attack and was the first British warship to be sunk since World War Two, marked one of the lowest points of the Falklands War.