Maesteg woodland planted by children targeted by thieves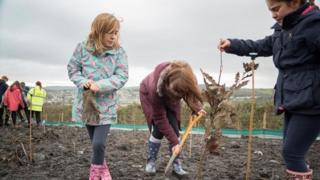 Thieves have stolen 86 stakes used to support tree saplings in a new wood planted by schoolchildren.
The stakes were stolen from young orchard trees at the Spirit of Llynfi community woodland in Maesteg between 6 and 8 May.
Natural Resources Wales, which manages the site, said the theft was "very sad", with the stakes possibly taken to be used as a garden fence.
Police have appealed for witnesses.
In the last few months 7,000 trees have been planted by nine local schools at the site as part of a project to transform the former Coegnant Colliery and Maesteg Washery areas into a place for public enjoyment.
Geminie Drinkwater, project officer for Natural Resources Wales, said: "It's very sad to think that someone has deliberately damaged something that is being created by the local community for the local community.
"We suspect that the stakes have been stolen to be used for someone's garden fence."