Series of bomb hoaxes at schools, say South Wales Police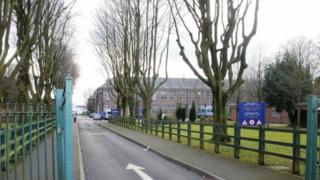 Police are investigating a series of bomb threat hoaxes made to schools across south Wales.
Whitchurch High School in Cardiff and Gwyrosydd Primary in Swansea were evacuated "as a precaution" on Friday morning.
South Wales Police said they were among a series of "malicious hoax communications to schools across the force area on Friday".
They follow similar hoaxes in Northern Ireland and England.
Whitchurch head teacher Huw Jones-Williams said: "Everyone in the school's community is safe and well and all student behaviour on both sites has been exemplary.
"Normal operations at the school have now resumed... All scheduled exams will take place this afternoon and steps will be taken to ensure that none of the candidates are disadvantaged."
A spokesman for the force said: "Police take hoaxes extremely seriously. They divert police resources and cause disruption and alarm to the public."