Royal Mail marks 500 years with coach parade in Cardiff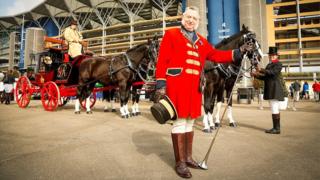 A Royal Mail coach paraded through Cardiff city centre on Saturday to celebrate 500 years of postal services in the UK.
Led by four horses, it set off from Cardiff Mail Centre on Penarth Road and made its way to the Pierhead Building in Cardiff Bay.
The coach driver, horn blower and grooms dressed in traditional Royal Mail costume.
They were joined by current Royal Mail employees, friends and family.
All proceeds from the parade will be donated to Royal Mail's chosen charity, the Stroke Association.
Caroline Rich, Cardiff Mail Centre manager, said: "We are proud to be celebrating our historic 500 years with a special procession in our capital city, demonstrating the pride we have in being part of this national network that connects consumers, companies and communities across the UK today."