Cardiff Bay road closures for triathlon and sailing events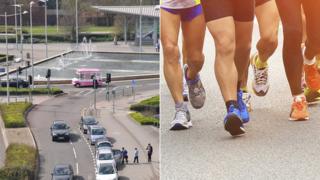 Road closures have been announced ahead of Cardiff Bay's triathlon and sailing events on Sunday.
Cardiff council has issued travel advice to drivers, with roads shutting from 06:30 BST and reopening at about 12:30.
East Tyndall Street, Lloyd George Avenue and Bute Place are among those being closed for the triathlon.
Drivers heading to the Extreme Sailing event before midday have been advised to follow signposted routes to the bay.
The council said the best route to get to the sailing would be the A4232, exiting at the junction for Mermaid Quay and the central link road.
A cycle diversion is also in place around Britannia Park, between Cardiff Bay and the barrage.
Roads closed during the triathlon:
East Tyndall Street from its junction with Schooner Way to its junction with Herbert Street and Lloyd George Avenue
Lloyd George Avenue from its junction with Herbert Street to its junction with Bute Place
Bute Place from its junction with Lloyd George Avenue to its junction with Pierhead Street
James Street, Clarence Road, Avondale Road and Ferry Road
International Drive to its junction with Olympian Way
Olympian Way, Watkiss Way and left onto Dunleavy Drive from its junction with Watkiss Way to its junction with Dunleavy Drive retail park