Funeral for baby boy found in Cardiff's River Taff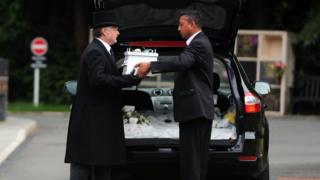 The funeral of a baby boy who was found dead in a Cardiff river has taken place after a public appeal to cover costs.
The baby, named Sion by police officers, was recovered from the River Taff last year.
His funeral has been held at Thornhill Crematorium, with an appeal by media group Wales Online raising £1,500 for the memorial.
Reporter Cathy Owen, who launched the appeal, said: "People's generosity has been overwhelming."
South Wales Police sought to find Sion's mother so he could be "laid to rest with his family name" but she has never come forward. It meant Sion would have had a public health funeral.
Instead, money raised from the appeal has gone towards a headstone and flowers, while left over donations will be given to stillbirth and neonatal death charity, Sands.
Representatives from South Wales Police, the midwifery team at Cardiff's University Hospital of Wales and Wales Online attended the service.
Ms Owen, who helped to arrange the funeral, said: "When we heard that baby Sion would be laid to rest with no flowers, no service, no mourners and no headstone we wanted to do something to help.
"While baby Sion's short life remains a heartbreaking tragedy, at least he will now be given the type of goodbye that no child should have to do without.
"We can only hope that it can bring some sort of comfort to his family."