£10m Crindau flood prevention project for 660 homes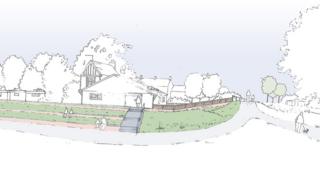 A £10m flood prevention project to protect 660 properties in Newport is due to get under way in the autumn.
It will run along the river Usk and its tributary in Crindau, between the M4 and rail line.
An amenity area will be created with cycle and footpaths when contractors create new embankments and flood walls.
Tim England, from Natural Resources Wales, said the area had had some "near misses" recently caused by tidal surges coinciding with high spring tides.
He added: "We can't always prevent flooding from happening, but in areas such as Crindau there are measures we can take to reduce the chances of it happening."