Bogus nurse gave Botox in her kitchen, investigation finds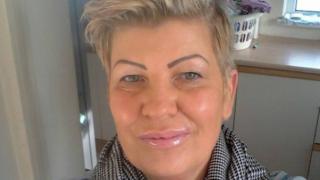 A bogus nurse has been injecting people with Botox in her kitchen, a BBC investigation has found.
Vivienne Baker, from Porthcawl, had claimed to be a midwife who was qualified to prescribe cosmetic treatment.
However investigations following complaints from clients have found she is not registered with the nursing council, and a certificate she was displaying was fake.
Ms Baker declined to comment.
Untrained people are allowed to inject Botox, but only those who are suitably medically qualified are allowed to prescribe the substance, which Ms Baker told undercover reporters she was doing.
BBC Wales' consumer programme X-Ray began investigating Ms Baker, who trades as Vizzy Bizzy or Botox Beauty, after hearing complaints from clients.
Hairdresser Richard Kerr from Bedwas, Caerphilly, said he had seen certificates advertising Ms Baker's claim to be a qualified practitioner and had not questioned them.
He paid around £300 each time on two visits to have Botox injections in his forehead and fillers in his lips.
"It worked for I'd say the first two weeks and then my wrinkles and stuff came back. I basically didn't see [any] effects in my lips at all," he said.
Mr Kerr contacted Ms Baker who said she would redo the procedures for a charge of £70, and instructed him to visit her home.
"It was a total nightmare, I sat in the kitchen with the children running around the area so it wasn't very clean. There was no anaesthetic on my mouth whatsoever so I could feel every bit of pain. It was excruciating.
"The day after that's when I had a mouthful of blisters all around my mouth."
Another customer said she was left with a droopy face for months.
Botox and the law
Botulinum toxin is a prescription-only medicine meaning it is regulated by legislation.
It can only be prescribed by a doctor, dentist or nurse in a specific patient's name - and can only be used for that patient.
Once a prescription has been written, the Botox is purchased and dispensed from a pharmacy.
It is not illegal for an untrained person to inject Botox - but the Royal College of Surgeons said laws should be tightened to ensure only those with proper training administer it.
Ms Baker told undercover reporters she had injected 10,000 patients in south Wales. She offered them three treatments for £150 which is considerably cheaper than many registered practitioners.
She also told them there were no possible side effects from the treatment, which is untrue, and failed to take any medical history before attempting to begin treatment.
Ashton Collins, director of Save Face, which registers Botox clinics, said: "None of these procedures are without risk. Even in the most skilled and experienced hands they can carry complications.
"If someone had an allergic reaction they could go into anaphylactic shock. And if the practitioner wasn't able and equipped to deal with that the person could lose their lives.
"You are compromising so many things by choosing a cut price practitioner. Your safety, your health, your appearance. It's just not worth it."
Ms Baker did not respond to attempts by the BBC to contact her, including a face-to-face encounter at her home.
X-Ray is broadcast on BBC One Wales at 19.30 BST on Monday 25 July