Monmouthshire family syndicate win £61m on EuroMillions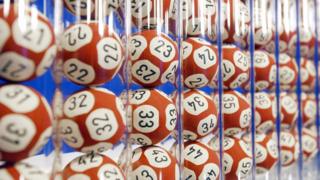 A family syndicate from Monmouthshire is celebrating after winning more than £61m in the EuroMillions jackpot.
Friday's winning numbers were 01, 21, 26, 40 and 50 and the winning Lucky Star numbers were 02 and 04.
The winner matched all seven numbers to scoop £61,102,443 - one of the largest lottery wins in the UK.
The biggest was when Colin and Chris Weir, from Largs, North Ayrshire, won the £161,653,000 EuroMillions jackpot in July 2011.
The name of the winner has not yet been announced by the National Lottery, whose operator Camelot runs Euromillions in the UK.