Uncovering Monmouthshire's Welsh-speaking 1840s past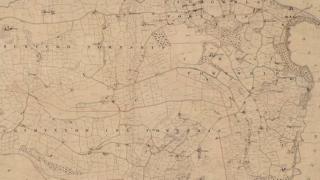 A National Library of Wales project has challenged the assumption Monmouthshire has always been predominantly English-speaking.
The Cynefin project has digitised Wales' 19th century tithe maps found in the 1840s - with more than 50% from the area in Welsh.
The findings were unveiled at the National Eisteddfod in Abergavenny.
Tithe maps originally recorded the names of owners and occupiers of parish land in Wales and England.
Monmouthshire was also holding its own Eisteddfod long before the first national event in 1861.
"There is reason to believe that more than half of the area's field names during the 1840s are in Welsh, reflecting the language of farm workers in the area during that period," said Cynefin project manager Einion Gruffudd.
"Llanover estate is shown on the tithe map for Llanover parish, where Lady Llanover, Augusta Hall or 'Gwenynen Gwent' (her Bardic name) lived.
'Key role'
"She played a key role in organising and financing Eisteddfodau'r Cymreigyddion (locals Eisteddfodau)."
Tithes were payments charged by the church on land users, with payments first made using commodities like crops, wool, milk and stock.
The maps were produced between 1838 and 1850 to ensure all tithes were paid with money rather than produce.
During this period in the area, the Chartist uprising took place - where around 3,000 protesters marched to Newport demanding the vote.
Mr Gruffudd said recordings of the subsequent court proceedings provide further evidence of the widespread use of Welsh in the area at that time.
"These documents demonstrate that many of the defendants were Welsh speakers and indeed, in many cases, unable to speak English," he added.
The Chartist and tithe documents are currently being transcribed.