Radyr Weir River Taff turbine swimmers 'condemned'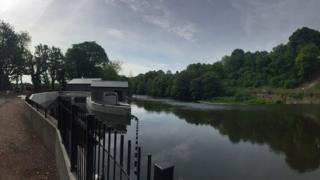 A warning has been issued after people were reported swimming near two large hydro-electric turbines in Cardiff.
They were spotted near the Radyr Weir hydro-electric scheme on the River Taff, which opened in July.
The turbines, which cost about £2.6m to install, are turned on when the water level is high enough.
Cardiff council condemned the swimming in the "strongest possible terms" and said a warden would visit the site, in the short-term.
Cabinet member for transport, planning and sustainability, Ramesh Patel, said it would be "impossible" to secure the entire river with fencing to stop access.
"The people who have accessed this area have climbed over a security fence, rocks and then walked along the wall to get to the platform above the turbines," he added.
Alongside warden visits, the council will also put up signs to warn access is restricted.
Mr Patel said the council would meet all the relevant organisations "to agree a solution in terms of the health and safety of those using the River Taff for legitimate reasons" and to "mitigate potential damage to the technology".