Cardiff mosque complains after uninvited Britain First visit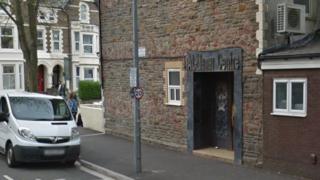 Police are investigating a complaint from a Cardiff mosque which received an uninvited visit from Britain First.
The far-right group posted a video on YouTube showing members in the Al-Manar Islamic Centre in Cathays on 20 August.
The visit followed claims made in national newspapers in July that Shaykh Ali Hammuda, an Imam at the mosque, was a "radical" preacher, which he strenuously denied.
Ali Hammuda has been approached by BBC Wales to comment.
In the video, Britain First members can be seen entering the mosque and questioning a member, who told them the mosque rejected extremism.
The Muslim Council of Wales also said the "radical" claims were "bizarre and certainly unfounded".
In a statement, the council said the mosque was "a vocal and committed partner in both countering the ideology of the so-called Islamic State and the social factors that lead to radicalisation."
By entering the mosque Britain First members could have broken an injunction which banned members from entering any mosque in England and Wales.
South Wales Police confirmed a complaint had been received and "the matter is being investigated".
Bedfordshire Police, which secured the injunction, also confirmed it is investigating.