Wenvoe nurse Andrew Lauder jailed for sex assaults on women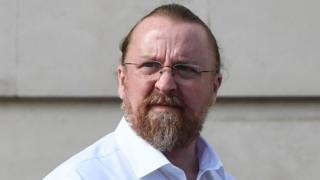 A nurse who sexually assaulted four women in hospital has been jailed for two years and nine months.
Andrew Lauder groped women's breasts while making "lewd comments" to them, Cardiff Crown Court heard.
Lauder, 54, of Wenvoe, Vale of Glamorgan, denied 10 charges of sexual assault but was found guilty of seven.
Prosecutor Nicholas Gareth Jones said during the trial: "He just simply cannot keep his hands to himself. He cannot resist groping other women."
Jailing him on Friday, Judge Jeremy Jenkins said: "You will lose your reputation, good character and job - that is something you only have yourself to blame for."
Lauder, who carried out his crimes between February 2014 and January 2017, must also register as a sex offender.
As well as groping his victims, Lauder grabbed one woman by her hair and pushed her head towards his groin.
One woman said: "He grabbed his crotch and made sexual gestures towards us on the ward. He made like a growling noise.
"I said to him 'do you realise you sound like a dirty pervert?' To which he said yes so I told him to stop.
"But he said that 'it was even more reason to do it, because I know you don't like it'."
Mr Jones said: "It is crude behaviour and not acceptable in this day and age."