South Africa murder family 'in limbo' waiting for trial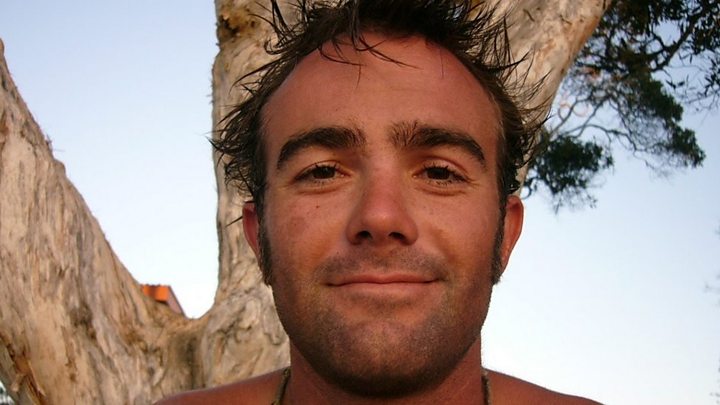 A family from south Wales have said they are "in limbo" because the men accused of killing their son in South Africa are still to go on trial three-and-a-half years after his death.
Jeremy Brooke, 32, was shot during an armed robbery and five men were arrested.
His mother, Marian Brooke-Morris, from North Cornelly, Bridgend, wants the Foreign Office to intervene.
It said it would contact the family to see how it could help.
Mr Brooke was on a diving trip with friends in 2014 staying in a remote coastal area of the Eastern Cape in South Africa.
Intruders broke into the cottage where they were staying late at night and shot him. He died on the two-hour journey to hospital.
The intruders got away with mobile phones, a boat and a vehicle.
Five men were arrested by South African police within 24 hours of the incident and remanded in custody charged with his murder.
But repeated delays in the judicial process have meant none have yet stood trial, despite the case being listed for trial eight times.
The defendant who was accused of shooting Mr Brooke was himself killed in a gangland shoot-out in June this year, having escaped from police custody for a second time.
Mrs Brooke-Morris is now seeking the support of her local MP, Madeleine Moon.
"Every time something happens it's like a slap around the face," she said.
"You tell yourself you can deal with this, it's not a problem, but it still sets you back."
Mrs Brooke-Morris, a retired neo-natal nurse, said although Victim Support had helped her, she was disappointed that the Foreign Office had not done more.
"I sort of hoped they would act as a kind of intermediary between me and the justice system over there, to find out what was going on, why there were these hold-ups, and maybe get some answers, because I can't," she added.
The family has been told a new trial date has been set for early October, with the case listed for five days.
But they understand the case is unlikely to conclude then due to the judge taking leave and it will not reconvene until early next year.
Mr Brooke's friend and employer, dive centre owner Greg de Valle, who witnessed the murder, said: "Jeremy's family want closure and we all want to know that the right people have been caught and that they get the correct sentence."
Eve Henderson, co-founder and director of the support organisation Murdered Abroad, said many grieving families felt "abandoned" by the UK authorities after the death of relatives abroad.
She said the Foreign Office was "reluctant" to intervene in a foreign judicial process or to get involved in cases where the victim had dual citizenship, as Mr Brooke had.
"All our families feel that they've been abandoned by their own country," she added.
A Foreign Office spokesman said: "Our sympathies are with Jeremy Brooke's family for the terrible tragedy they have suffered.
"Our staff in South Africa supported them at the time of his death and we are contacting them to see what further help we can offer."
The South African Police Service (SAPS) said a lot of resources were allocated to ensure the case's "speedy investigation and finalisation".
A spokesman added a trial date had been set for early October and that "Eastern Cape SAPS detectives are confident and ready for the trial".