'Wolf-like creatures' stalk Bedwellty House for horror film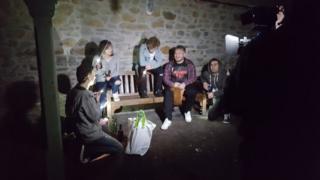 A "family of wolf-like creatures" have been stalking the grounds of Bedwellty House, the location for a "blood-flowing" horror movie.
The Grade II-listed building in Tredegar, Blaenau Gwent is where Aneurin Bevan and Neil Kinnock began their political careers.
But in Blue Moon it is an overgrown, forgotten manor house that attracts a group of werewolf-hunting youngsters.
Unemployed people wrote and starred in the film shot over the past week.
Green Valley Films' first movie The Bench was shot in Poland because of problems closing roads in Wales.
Director Kevin Phillips was told he was "mad" and it would be "impossible" changing his script to a foreign language and enlisting actors in Legnica.
But after being put together on a shoestring, it beat much higher budget films to win best original screenplay of a foreign language film at the London International Filmmaker Festival.
Mr Phillips decided to make his second production locally after helping to set up the Blaenau Gwent Film Academy.
It aims to give hundreds of unemployed youngsters experience in script writing, filming and editing and turn the area into a creative hub.
"We wanted to create a blood-flowing horror movie where a werewolf hunting group of young people go into the grounds of an old Victorian manor house," he said.
"Most of the cast have little or no experience, but didn't mind being covered in litres of fake blood.
"It has also helped boost the confidence of our young volunteers, some of whom have been unemployed for quite a while."
While the team had streets and the town square closed for filming in Poland, Mr Phillips added it was easier shooting across the road from his studio rather than a 20-hour drive away.
Unemployed horror fan Leigh Jones, who wrote and starred in the film said it was "a dream come true" to be involved.
"To get the opportunity to take the lead in writing the screen play has really helped with my confidence which was pretty low after being out of work for so long," he said.
"Then I got asked to play the Wolfman, it's something I've really enjoyed. I can't believe something like this is happening in Tredegar."
Production assistant Tegan Meyrick-Carr said: "Working behind a film production has helped me into thinking about what I want to do as a career in the future.
"It has also helped me gain a lot more confidence so I can handle more challenging situations."
After work was completed on The Bench, the team were given the red carpet treatment in Legnica for the premiere.
They are hoping their current project will earn as many plaudits for the youngsters involved in their home town.
It has a working title of Blue Moon and they are hoping to release it next Spring.