Cardiff council tax set to rise to help make £23m savings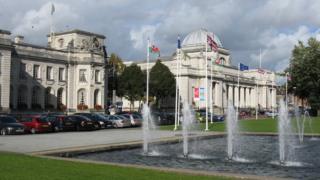 Increasing council tax, school meals and cremation costs are some of the options being considered by Cardiff council as it looks to balance its books.
The council needs to find £23m in savings in next year's budget and will outline its plans on Thursday.
They include raising council tax by 3.7%, which will raise an extra £4.7m.
Cardiff residents will be able to have their say in a consultation running from 2 November to 14 December.
Specific proposals include:
Increasing the price of schools meals by 10p a meal
Increasing the price of re-homing a puppy by £10 and dogs by £20
Increasing the cost of burials and cremations by £20
Ceasing publication of the council's quarterly newspaper 'In Cardiff'
Cardiff council's cabinet member for finance, Chris Weaver said there were no easy options as "austerity hasn't ended".
He said the council was working its way through an "incredibly challenging time financially" and was trying hard to protect residents from the "full force of the cuts".
"Our population continues to grow and demand for the services we deliver is on the rise, but we are getting less money in real terms from government to deliver the services our citizens expect," he added.