'Two Tredegars' legacy as film tells of forgotten links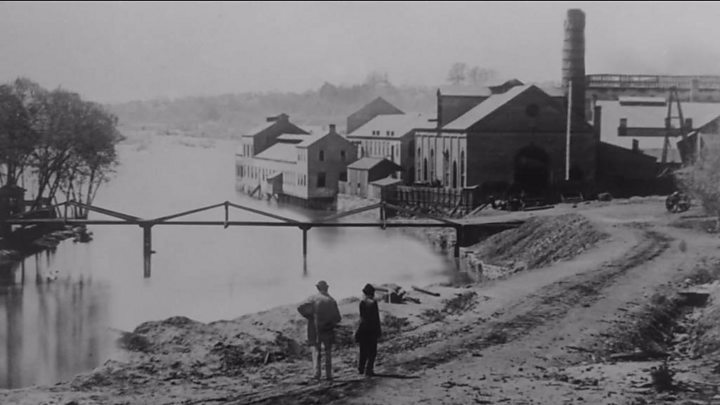 Six months after his death, a filmmaker's final work has been completed and it is hoped it will put his hometown, Tredegar, on the map.
Peter Morgan Jones scripted and voiced hundreds of documentaries as well as writing many books about south Wales.
When he died, he was making a film about Tredegar's namesake in Richmond, Virginia, and south Wales' little-known influence in the American civil war.
It has been completed and is attracting interest from US television networks.
While the Blaenau Gwent town is famous for links to Aneurin Bevan and the NHS, Mr Jones spent a decade uncovering its role in supplying arms to the Confederate South and rebuilding the USA after the war.
He was a teacher at the town's comprehensive school but also researched and wrote books on local and international history.
NHS birthplace hospital 'should be knocked down'Key NHS building 'an eyesore'
Welsh engineer 'changed US history'
This led to him scripting and presenting television documentaries, producing 250 for local company Arts Magic alone, on topics ranging from Welsh miners to the Holocaust and outlaw Jesse James.
These were shown around the world and his voiceovers are still regularly heard on TV's History and Discovery channels.
But it was after spotting a small article in the Hereford Times about the death of Rhys Davies in Richmond, Virginia, in 1838, that his final major project began.
"It all stemmed from a tiny paragraph and him thinking 'that's odd' [that a Welshman died there]," said his son, Martyn.
"He then spent five years uncovering information nobody knew about the massive role a few blokes from Tredegar played in America."
Mr Davies had been an engineer in Blaenau Gwent when it was one of the biggest centres for iron-making in the world in the early 1800s.
After moving to Richmond, Virginia, in 1833 to set up an operation there, he made such an impact, it was named in his honour.
It became the Confederate South's largest ironworks providing a huge arsenal, while materials produced rebuilt the area when the conflict ended.
Despite suffering from cancer, Mr Jones gained funding for the documentary, scripted it and arranged for a crew to visit the USA and film in the American Tredegar in October 2016.
In total, he spent about five years researching it but died in April, aged 87, before the documentary had been completed.
His son added: "Dad worked tirelessly to promote Tredegar's heritage for the best part of 60 years.
"This [film] is a fitting legacy, the finest thing he's done. Sadly, he didn't get to visit but we as a family are hoping to go to Tredegar in America."
Local filmmaker Kevin Phillips, who was part of a team who travelled across the Atlantic, said most of the historical links had been lost.
But newspaper reports suggest Mr Davies died in a sword duel and people were celebrating St David's Day in the area until the mid-1900s.
Mr Phillips said: "Peter did more for Blaenau Gwent than anyone else I have ever known.
"This project was dear to his heart, so it was important we finished the film."
Historian Nathan Madison, from Tredegar in Richmond, appears in it and wrote a book after being intrigued by the links.
He explored the relationship, saying despite being "forgotten, overlooked and even ignored", it is "more than just a coincidence" two towns 3,000 miles (4,800 km) apart share the same name.
How the Welsh Changed the World - Tale of Two Tredegars was played for 100 people in Blaenau Gwent this week.
It is hoped it will soon be shown in the town's American namesake and across the world.