Undy housing site next to M4 goes on the market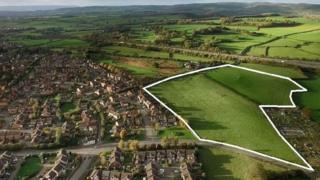 A residential development site next to the M4 has been put up for sale.
This comes after Monmouthshire council, which owns the land, previously admitted it was not hitting home-building targets set in its Local Development Plan (LDP).
About 270 properties are set to be built on Rockfield Farm in Undy and the first 144-unit phase is the start of the project.
Rockfield Grove is one of seven sites in the county set for houses by 2021.
The greenfield site will be a mixture of residential and "employment-generating uses" but development is limited as the proposed M4 relief road is planned to the north of it.
The tender deadline for the 13 acre (five hectare) first phase is next year, according to estate agents Savills.
Monmouthshire is the most expensive county to buy a house in Wales with a £280,000 average price.
A report to Monmouthshire council in September said more development locations were needed due to the "slower progression of housing sites".
Planned housing developments
Deri Farm, Abergavenny (250 properties)
Crick Road, Portskewett (285 properties)
The Shipyard, Chepstow (350 properties)
Wonastow Road, Monmouth (450 properties)
Rockfield Farm, Undy (270 properties)
Vinegar Hill, Undy (225 properties)
Paper Mill, Sudbrook (190 properties)
Estate agents said the promised Severn tolls abolition had increased housing demand in south Monmouthshire.
The council set a target of building 488 homes a year when it adopted its LDP in February 2014 but only 667 have been completed since.
Neighbouring Newport has completed more than 900 houses a year in the past two years.
The 4,000 new-home development at Glan Lyn, on the old Llanwern steelworks site, is just five miles from Rockfield Farm.