Jenna Miller: Joseph Fettah denies fatal crash car race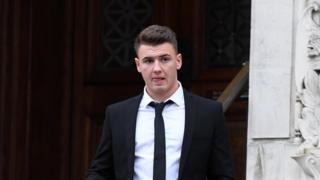 A driver has denied racing another car which crashed, killing a mother of two.
Joseph Fettah, 20, of Rhoose, Vale of Glamorgan, is accused of causing death by dangerous driving.
He was following an Audi belonging to Jamie Oaten, 24, from Barry, when Oaten's vehicle crashed into a Mazda belonging to Jenna Miller on 27 September 2016.
Ms Miller died and Oaten has already admitted causing death by dangerous driving.
The defendant told Cardiff Crown Court he was taking a vehicle belonging to his father's business to a nearby garage for work when he pulled up at traffic lights.
He said he did not intend to race and could not see the face of Oaten in the car in front.
While he originally told police he was driving at "30mph or 40mph", Mr Fettah said he was going quicker but was "in control".
Under cross-examination by prosecutor Matthew Cobbe, Mr Fettah admitted that Oaten's vehicle was "belting along" at about 70mph.
He said: "I drove round the corner and saw the Audi brake sharply and I broke sharply as well.
"I did not know it had been a fatal accident. The Audi was driving too fast and caused it."
He said he did not see the Mazda belonging to Ms Miller pull out and was left "in shock after".
However, Mr Cobbe asked why the defendant decided to "push your car to its limit, to 70mph" when he was just 500 metres from his destination.
Mr Cobbe asked: "You weren't using it as a drag strip, seeing how much you could get out of your car?"
Mr Fettah denied this but admitted he lied to police initially by saying that he was travelling at just over 30mph.
In a written statement, Nathan Pearson, who was in the car with Ms Miller, said they had stopped to get petrol from the Texaco garage on Cardiff Road, Barry.
As they left, he described "a car coming very fast towards us, snaking".
Ms Miller tried to reverse to get out of the vehicle's path, but Mr Pearson added: "He tried to brake but the car just kept coming.
"There was a hell of a smash and when I came to, the black car was indented in ours."
Statements from police and paramedics were also read out by Mr Cobbe, which described how Ms Miller suffered catastrophic brain injuries.
Police investigators later found faults with both rear tyres on Mr Fettah's VW Golf.
The trial continues.