Hirwaun church thefts: £2k raised after Christmas Day raid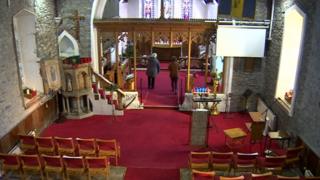 More than £2,000 has been raised to support a church targeted by thieves on Christmas Day.
Electrical equipment worth £20,000 was taken from St Lleurwgs Church, in Hirwaun, Rhondda Cynon Taff, along with century-old silver and brassware.
Church leaders think the thieves may have hidden on an upstairs balcony after Midnight Mass before carrying out the raid.
Reverend Ceirion Rees said he was overwhelmed by the community response.
The break-in was discovered by Mr Rees and his parishioners when they arrived for the Christmas Day service to find the church vandalised.
Hirwaun councillor Karen Morgan set up an online fundraising page on Boxing Day to raise money to pay the excess charge on the church's insurance claim.
Within five days it had raised £1,090, while a separate donation of £1,000 was made directly to the church.
Mr Rees said: "I have always known that we have a very strong community here in Hirwaun but you don't realise how much you are loved until something like this happens.
"People were shocked and outraged at the break-in and have shown great concern and love for the church.
"I have had many messages of support - people offering not just money but practical help and laptops to replace what was stolen. It has been incredible heartening."
Among the items stolen was the church's PA system, a crucifix, candles sticks, a chalice and a trolley used for its food bank.
Mr Rees said the donated money would cover the excess on its insurance claim and any extra would be invested in community projects.
He added: "People can steal things which we use or which have sentimental value but they can't take the heart out of the church.
"We carried on our service and prayed for those who had been driven to steal from us, for whatever reason."