Asian gold worth £60,000 taken in Newport burglaries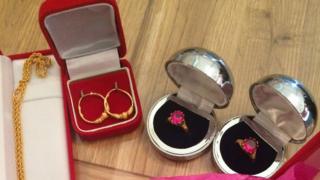 Police have issued photos of £60,000-worth of Asian gold jewellery that was stolen during two Newport burglaries.
The first burglary - during which £50,000 to £60,000 worth of jewellery was taken - happened at a home on Ladyhill Road on 19 December.
The second - in which two identical bracelets worth a total of £2,000 were taken - happened at an address on Eisteddfod Walk on 14 December.
Police said there had been a number of similar cases in recent months.
A spokesman for Gwent Police said: "We believe the offenders are targeting specific homes in a bid to steal valuable Asian gold."
People have been advised to take extra precautions to secure their valuables, such as keeping them in a safe deposit box or bank, taking numerous photos, itemising jewellery on home insurance policies and investing in CCTV and burglar alarms.