Two rescued after car overturns on Leckwith Road, Cardiff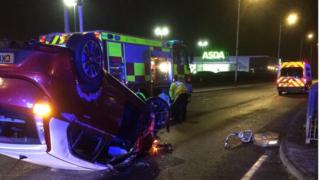 Trapped motorists had to be rescued by firefighters following a two-car collision in Cardiff.
One vehicle overturned in the crash, which happened on Leckwith Road shortly after 07:00 GMT on Thursday.
One person was taken to hospital by ambulance and another was treated at the scene.
The road was closed westbound at Sloper Road for recovery work but has since reopened.