Tonyrefail School closed in strike over job losses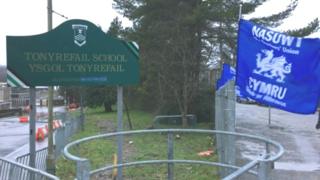 Teachers are taking part in a three-day strike at a school in Rhondda Cynon Taff after some staff were told they would lose their jobs in a merger.
Tonyrefail School is merging with Tonyrefail Primary to create a 3-18 school, but some staff have been left without jobs after having to reapply.
Teachers' Union NASUWT has organised the strike with four people still unsure if they will lose their jobs.
The strike is taking place from 23-25 January and the school will be shut.
The merger between the schools was confirmed in July 2017 and will go ahead at the start of the next academic year in September 2018.
NASUWT previously threatened strike action when the merger was announced in 2017 and said it was "deeply regrettable" the council and school could not guarantee jobs for all teachers and the school was causing "distress and anxiety".
Rex Phillips, NASUWT National Officer for Wales said: "This is a protest against the fact that four of our members don't know whether they will have jobs in the newly formed school in September.
"They don't need to have this process of sacking people and making them apply for their jobs. They're basically selecting people for redundancy through the non-appointment of their positions and that's not a fair way of doing things."
Around 30 teachers stood on a picket line outside the school between 07:00 GMT and 09:30 on Tuesday.
"I can't for the life of me understand why they won't guarantee the jobs. The people here know they've got jobs, their colleagues have not got jobs and that's why they're making this stand. It's truly inspirational," said Mr Phillips.
Rhondda Cynon Taf council has said it is "committed" to finding employment for the four staff who are currently going to be without work.
A spokesman said: "Given that the internal employment process for the new school has only just ended and the process of seeking this alternative employment has only just begun, the council is surprised at the timing of this action by the union.
"Three of the four roles at the existing Tonyrefail School would have ended in August 2017, but the Council chose to keep them on as additional resources to give all staff the opportunity to apply for roles at the new school."