Cardiff GP cleared of raping wife and bullying children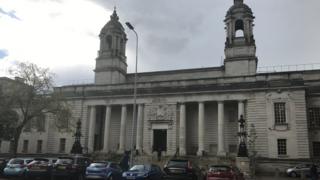 A GP has been cleared of raping his wife and bullying his children after a trial at Cardiff Crown court.
The doctor, who cannot be named for legal reasons, said his wife's injuries were caused by "bruising problems" and he merely "disciplined" his children.
He denied controlling or coercive behaviour, two counts of cruelty to a person under 16, and rape.
The jury cleared him of all the charges following a trial.
The court previously heard he was arrested in September 2016 after his ex-wife alleged he had raped her.
He told the jury: "She never said no to me and I haven't raped her.
"I'm not trying to hurt my children, I'm trying to get them to stop what they are doing.
"There are times where I've had to discipline but I have never assaulted my children."